How to contact us
E-mail us
You may e-mail us directly at: info@joli-ecotours.com with all your questions.
Important: if you consider travelling or volunteering with us, we kindly ask you to fill in our contact form in place of only e-mailing us. It is very important that we receive your specified requests and information in the form to provide you with the best response possible.
Our back office is staffed by Cindy Noordermeer-Panou, who will answer your emails and will make travel proposals based on your wishes. Cindy is both Dutch and English speaking, so if you are from The Netherlands and feel more comfortable asking your questions in Dutch, please do so.
Contact Cindy Noordermeer-Panou
Cindy Noordermeer-Panou can be reached at:
T. + 233.24.7522173
E. info@joli-ecotours.com
Cindy speaks English and Dutch.
Contact Apollo Panou
Apollo Panou can be reached at:
T. + 233.20.8120856
T. + 233.27.4045025
E. info@joli-ecotours.com
Apollo speaks English and French.
Postal address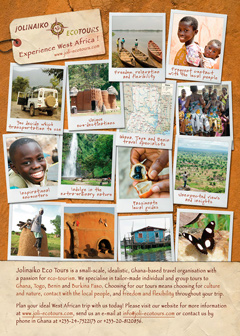 Jolinaiko Eco Tours flyerJolinaiko Eco Tours
P.O. box DD79
Dodowa, Greater Accra
Ghana.
Terms and conditions
The following terms and conditions apply to all our tours:
Flyers
We have a flyer you can download for your own use or to send to other people:
General company information in Dutch
If you want general information about the Jolinaiko Eco Tours Company (so not for travel information or proposals) from someone in The Netherlands, you may get in contact with Remco Kalf. As the web designer of this website, an advisor to Jolinaiko and a board member/founder of the Stepping Stones for Africa Foundation in The Netherlands which offers ongoing technical support to Jolinaiko Eco Tours, Remco will be more than happy to respond to your questions. You may contact him at remco@steppingstonesforafrica.org or on the number +31-(0)70-3819122.
Jolinaiko Eco Tours on Facebook
We have our own Facebook page (http://www.facebook.com/jolinaiko), where we share the latest news, and you can connect with us: