Guided tours for individuals and small groups
Jolinaiko Eco Tours' main service is organising and guiding round-trips and tours for individual travellers and small groups.
When you first contact us after you have become interested in booking one of our tours, we take the time to ask you about your interests, wishes, travel experience and the level of travel comfort you prefer.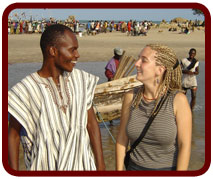 Using your information and travel wishes, we create a personally tailored travel proposal and then send it to you for approval and confirmation.
Travel agent for large group tours
We have extensive experience in organising tours for large groups.
We are the local travel agent of choice for multiple specialised tour operators in Europe and the Middle-East. We are always eager to expand our activities as preferred tour agent, so please contact us if you are looking for specialised local travel agents in West-Africa.
Volunteering
Another service offered by Jolinaiko Eco Tours is the combination of voluntary work and travel.
Volunteering for a local institution and living with an African family is the best way to learn about the culture and the people. It is an initiative that stimulates mutual learning and builds long-standing friendships.
Interest, motivation, maturity and character are more important than formal qualifications for a successful volunteering experience. Contact us today to receive more information about how you can combine voluntary work and travel in West Africa.