The Tagbo Falls Lodge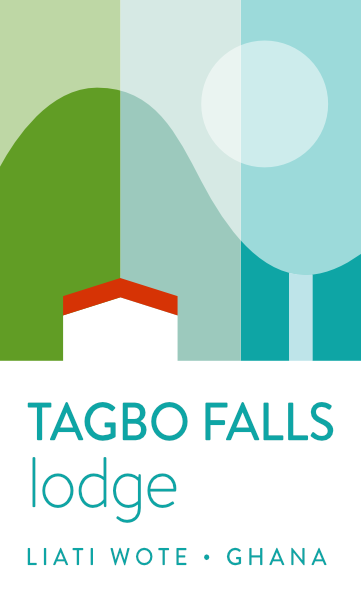 Welcome to Jolinaiko's own Tagbo Falls Lodge, a 'home away from home' in the peaceful valley of Mount Afadjato, in the green Volta Region in Ghana.
The Tagbo Falls Lodge is situated on the edge of Liati Wote, a friendly village on the foothill of Ghana's highest peak Mt. Afadjato, and within walking distance of the Tagbo Waterfalls.
Relax in a hammock, or explore the village and surrounding nature
The lodge is a perfect base for nature lovers and hikers. From here you can explore the village, discover the trails through farmlands and to the waterfalls, conquer the top of Afadjato mountain and enjoy the panoramic views over the surrounding valleys.
Tagbo Falls Lodge is also a comfortable place to relax and enjoy some leisure time. Just kick back and listen to the sounds of nature in a relaxing chair or hammock on the summer terrace.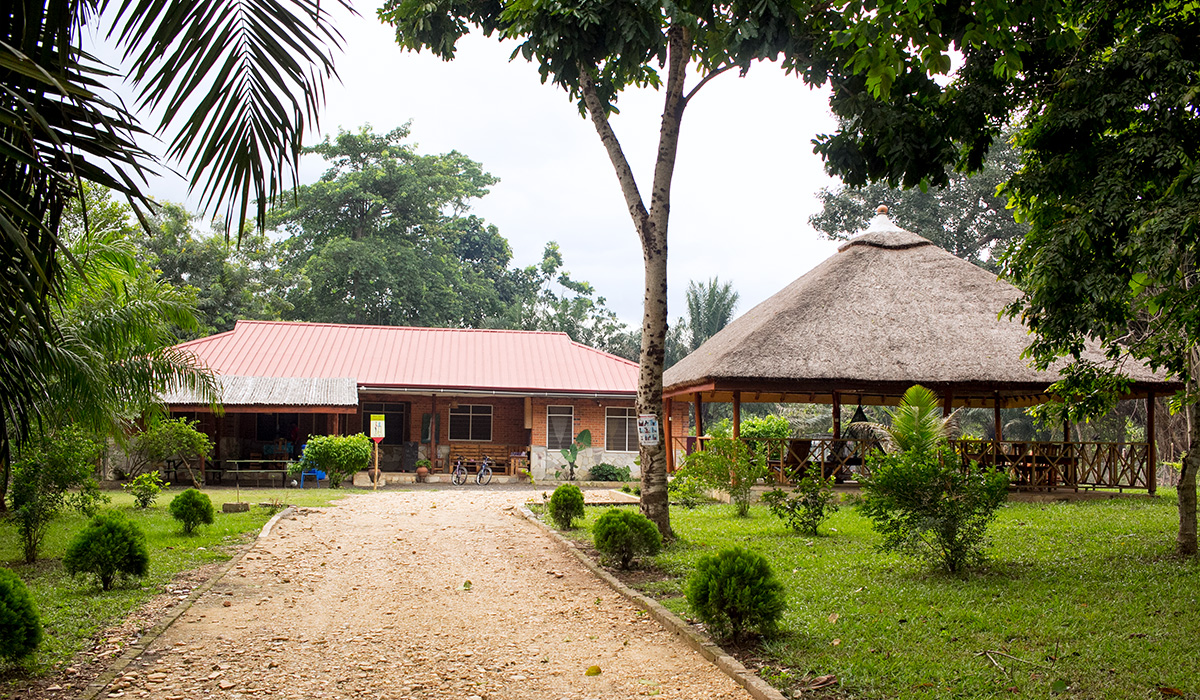 The Tagbo Falls Lodge.
Comfortable rooms and delicious meals
Enjoy our spacious rooms with comfortable beds, mosquito nets and hot water shower. We offer two double rooms and a family room with private bathrooms, and two twin rooms with shared bathroom.
Discover our special menu, with flavours of the region and beyond. We offer Tagbo Traditional dishes as well as Tagbo World dishes. Our menu can be downloaded here:
All meals are prepared with care and love by manager and cook Philo, using local and organic products. Our fresh fruits are harvested from the surrounding farms and we serve our dishes in beautiful handmade pottery from the nearby village of Kpando.
Kitchen hours
Our kitchen takes last orders at 8pm. So if arriving late please, call ahead to order! (See the menu above.)
.
Liati Wote village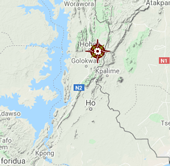 » View on large mapLiati Wote is a rural village and a popular 'community-based' tourism destination. It has a total population of about 600 members, mostly small-scale farmers. The community is organised along the lines of traditional leadership, headed by a chief and his team of elders.
It is an ideal place to witness daily life, meet local people and soak up the friendly atmosphere. We have a long-term, personal link with the people in the village and this is where we like to take our guests to experience the real Ghana.
In our opinion, Liati Wote is a great example of a successful community-based tourism project; the way tourism is organised is pleasant, the villagers have a positive attitude towards visitors and the income generated from tourism directly benefits the community as a whole.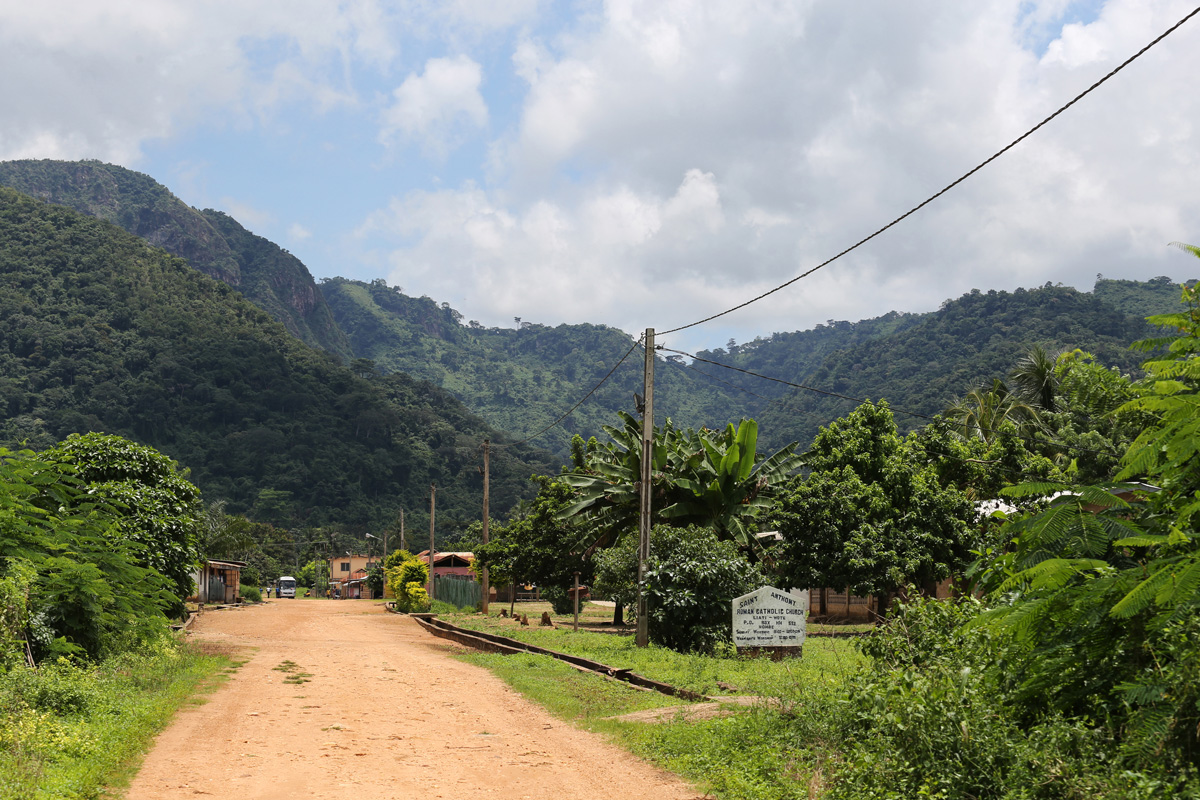 Liati Wote village.
Our personal link with Liati Wote
We have a very personal link with Liati Wote. After many years of visiting this community with our clients, we decided to build the Tagbo Falls Lodge here in Liati Wote, to be able to offer our guests more in-depth cultural experiences and the chance to really enjoy the beauty of the nature and people of the region and at the same time involve the community with responsible tourism.
Wall paintings made by local artists to create awareness about littering in Liati Wote.Previously, there was no mid-range tourist accommodation in the village. The availability of comfortable accommodation makes it possible for visitors to stay longer and really explore the village and its surroundings. The lodge is also a springboard for many new initiatives.
Developing the lodge resulted in work for community members and triggered the eagerness of the villagers to engage further in the area of responsible tourism. Together with the community we initiated several eco-touristic development projects, through our NGO, the Stepping Stones for Africa foundation.
One of our projects is to help the community with tackling the plastic waste problem that come with an increasing number of tourists. Waste bins have been placed along the major hiking trails, and together with local artists, wall paintings have been made to create awareness about the importance of recycling plastic. The project also involves the Green Club, which has made environmental awareness part of the school curriculum.
Rooms and prices
The Tagbo Falls Lodge has 5 comfortable rooms, all with warm water and fan. Two rooms share a shower and toilet, and the other rooms have a their own bathrooms.
The lodge has a communal space with a kitchette where you can prepare your own tea and coffee, and various sitting and hanging areas.
Room 1: Banana room
Double bed (one queen size bed)
Private bathroom (warm water)
Fan
GHC 200 (1 person) - 250 (2 people))
Room 2: Orange room
Twin bed (two single beds)
Private bathroom (warm water)
Fan
GHC 200 (1 person) - 250 (2 people)
Room 3/4: Papaya room
Two rooms sharing one shower and WC and could also be rented separately

Room 3

Twin bed (two single beds)
With shared shower (warm water) and WC
Fan
GHC 175 (1 person) - 225 (2 people)

Room 4

Double room (queen size bed)
With shared shower (warm water) and WC
Fan
GHC 175 (1 person) – 225 (2 people)
Room 5: Pineapple room
1 Double Bed (Normal Size) and 2 single beds
Private bathroom (warm water)
Fan
GHC 300 (2 people) - 350 (3 people) – 400 (4 people)
- All prices are including our special Tagbo Falls breakfast.
- All prices mentioned are from 1 February 2021 till 31 December 2021.
Wifi and electricity
Please be aware that there is no Wifi available at the lodge, and poor mobile connection. Switch off your data if you are on roaming via Togocel. It's a 20 minute stroll through the bush to a 3G internet spot.
We have rechargeable lamps in case of a power cut, but the lodge does not (yet) have a standby electricity supply or solar panels.
Things to do in the area
Hike Mount Afadjato and surrounding hills - Enjoy the mountain trails
From Jolinaiko's Tagbo Falls Lodge, you can follow several trails of various difficulty levels leading to Ghana's highest peak Mount Afadjato (1.5h). The landscape offers stunning views over the lush mountains of Eastern Ghana and Western Togo. On a clear day you can even see the Volta Lake. Depending on your level of fitness you can extend the hike by combining neighbouring Bledi or venturing into the surrounding hills of Mount Aduado and the Twin Mountains. In addition to the Tagbo Falls and Mount Afadjato trails, the lush surroundings of Liati Wote offer plenty of other hiking opportunities. Whether you are after a short, leisurely stroll or an intensive full-day or multi-day hike, this is the place to go.
Walk to Tagbo Falls - Enjoy a family hike to the refreshing falls
From Jolinaiko's Tagbo Falls Lodge, a 45 minute to 1 hour relatively easy hike will take you to the pretty Tagbo waterfalls. Enjoy a guided walk through tropical farmlands and coffee plantations to the falls. Cross the three bridges over the meandering river and refresh at the pool or enjoy a picknick at the foot of the waterfalls. The water temperature, size of the falls and the possibility to swim depends on the season. The The Tagbo River plays an important spiritual role in the community of Liati Wote; for example it is taboo to eat the fish from the river.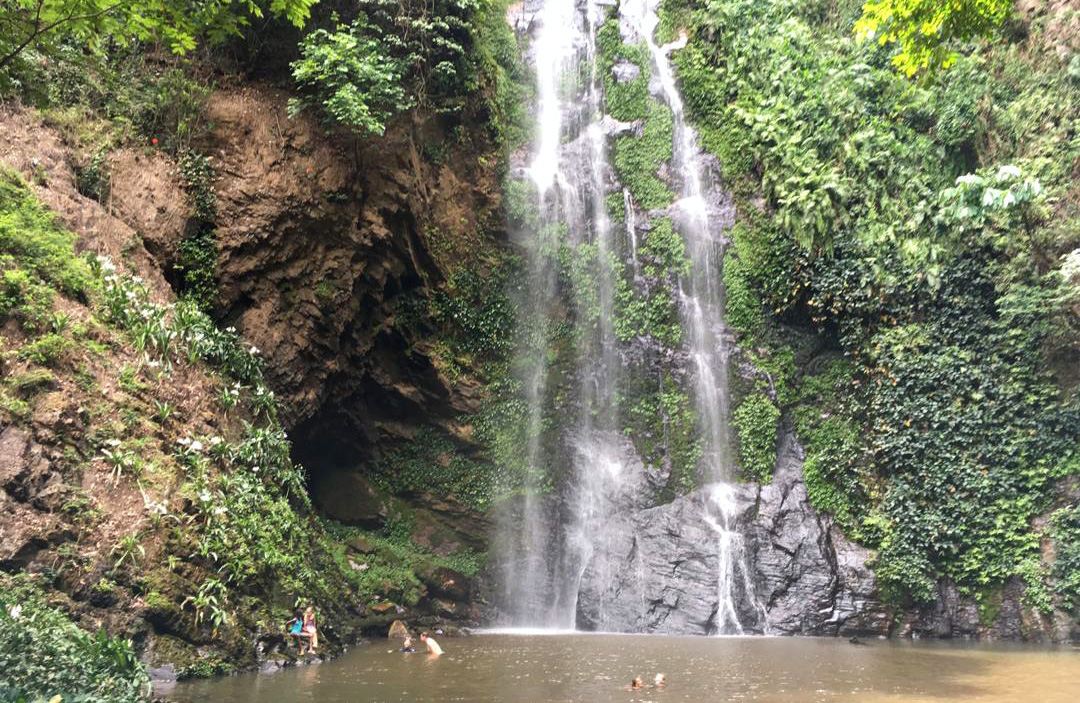 Swimming under the Tagbo Falls.
Biking - Explore the area
The area around Liati Wote is perfect for biking. Explore the surrounding villages, fields and farmlands together. We have sturdy bikes available at the lodge.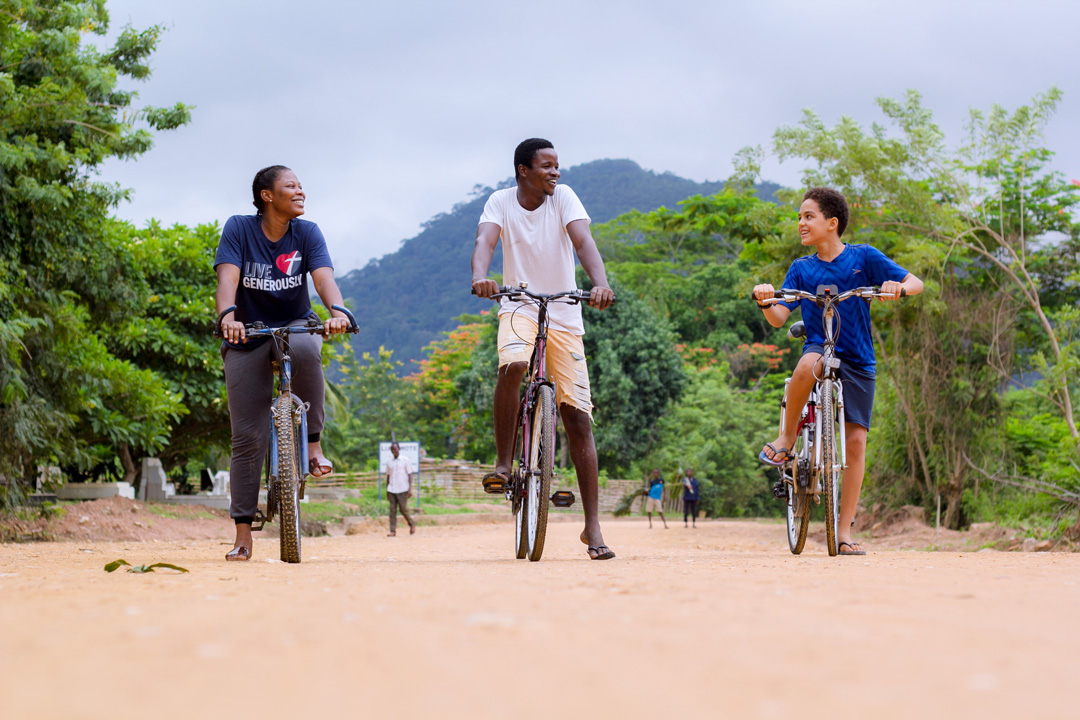 Explore the Liati Wote area by bike.
Village and farm walk - Daily life in rural Ghana
Meet the people of Liati Wote and witness the daily activities such as drying of cocoa, extracting palm oil, cooking and milling maize. Village life has a tranquil pace and you will find people chatting at the market stalls or playing games in the shade of the tree. To get a real feel for daily life in rural Ghana, you can join one of the local farmers to their farmlands. A variety of crops are cultivated in Liati Wote such as palm oil, cocoa, rice, maize, and a range of vegetables. You will also find palmtrees and a bamboo forest along the Tagbo River.
Cooking with Philo and Enyonam
If you wish, join in the kitchen and prepare a local meal with crops from the field. The typical meals in the community are the staple foods like akple, banku, and ofcourse fufu. The areas is also known for garden eggs (small aubergines) that are delicious in stews with yam and plantains, and local brown rice.
Palm wine and palm oil distillery
The tapping of fresh palm wine from a tree trunk and the home brewing of local gin called 'Akpeteshi' fascinated many of our visitors. This local gin is very popular throughout the country and the production of it is a true industry in Ghana. In a simple but innovative way, with very basic means, the brewers manage to produce large quantities of this popular drink. The jerrycans used in the distilling process can be seen everywhere and can even function as a signpost for a small bar.
Borborbor - Drumming and dancing performance - Traditional Ewe recreational music and dance
Borborbor is the most popular style of recreational music and dance of the Ewe people from the mid-Volta region. It links traditional drumming rhythms to proverbial lyrics; the drummers weave moderate beats while female dancers and singers revolve around them. A community Borborbor performance can be arranged upon request and will surely liven up your experience of Ewe culture!
Book our Kids Add-Ons
Sure, it's lovely to travel with children! But we also know that it makes our guests extra happy if their chidren are positively enaged, so that the adults can sit back, relax, read a book or go for a hike! Therefore, we offer a few Add-Ons so that your stay with your children is just perfect!
The activities for kids that are described below can also be downloaded as a pdf: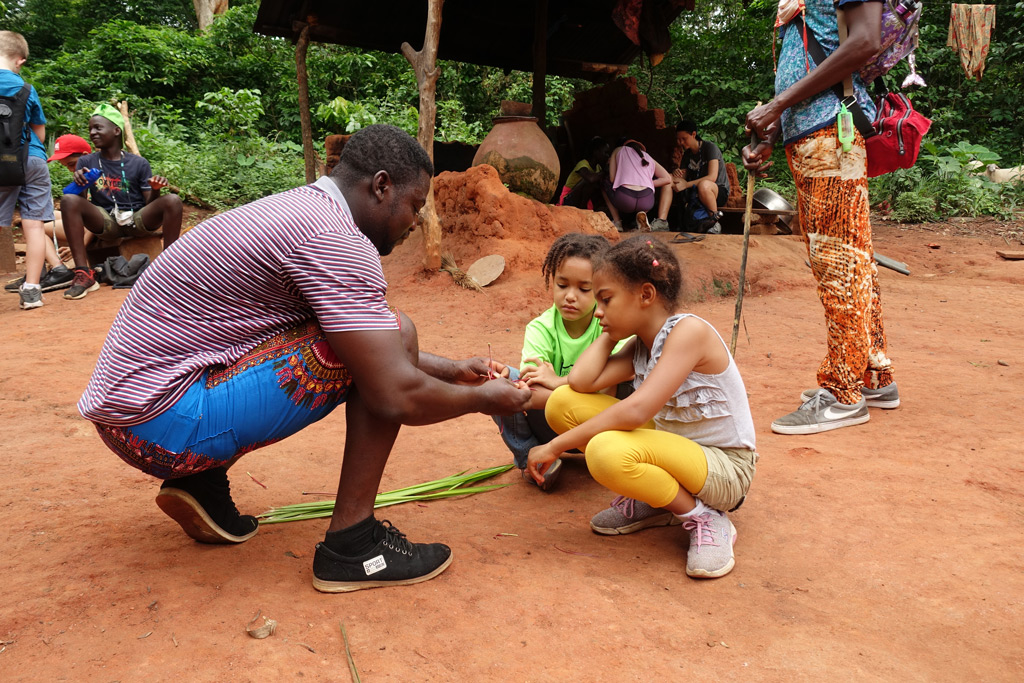 Book Gideon for fun kids activities at the lodge.
Add-On 1 – Book Gideon as your guide
Gideon is a licenced tourguide. He joined the Jolinaiko family in 2015 and is responsible for the special touch to the look and feel of our lodges. He is our creative handyman, who always comes up with out-of-the-box ideas. And he is actively involved in our recycling projects and lodges in Liati Wote and Atsiekpoe.
Gideon loves kids, always finds a playful connection with the village youth and is currently studying to become a teacher. He is a genuinely happy and energetic guy!
What kind of activities does Gideon offer?
There is no reason to get bored because there is always something new to experience in nature. Also, the activities largely depend on the number, ages and interests of the children.
The following experiences could be offered, and are fun for kids from 4 till 15 years:
A crash course in vegetable gardening including planting your own seeds or seedlings in a 'take-home garden basket'.
An exploration of the nearby cacao plantation where you learn about the different stages of cacoa, and where you taste the sweetness of the cacoa fruit.
What about creating your own float or boat from bamboo and natural items, and sailing it on the Tagbo Falls stream next to the lodge?
Furthermore, a bike ride, a longer family farm hike, ball games, board games, and scavenger hikes.
If your child is interested in creative arts, sowing a bag or purse from watersachets, other recycled plastic and decorations is another option. There is a sowing machine available.
Finally, drumming and story telling is a always nice after sunset.
Gideon's guiding fee
1-4 kids = 150 GhC in total per day (the minimum is 2 days)
5-8 kids = 200 GhC in total per day (the minimum is 2 days)
Please inform us prior to your stay so that we check Gideon's availability. He does not live in Liati Wote and travels to the lodge when booked.
Add-On 2 – Arts Workshop with Khriz Creatives (for kids ánd adults)
Khriz is a great artist from Liati Wote. He is the one who created all the artwork in the lodge and the educational wall paintings in the community.
During this 1.5-2 hour workshop, he will help you to paint your own piece of art. Most likely, you will be painting on natural wood, rather than on paper.
Khriz's fee for kids and adults
1-4 people – 40 GHC p.p.
5-8 people – 35 GHC p.p.
Please inform us prior to your stay so that we can check Khriz' availability.
Khriz' own artworks are for sale, so inform him if you are interested and he will take you to his home gallery.
Philo's nanny services for the younger ones
In case your children are too young to take part in any of the activities, Philo's nanny service might help you out. Philo worked as a nanny in her early days, and she and the team will be happy to look after your youngest ones so you can go for a hike to the falls or the mountains. Ofcourse, their availability depends on the number of people in lodge.
Nanny fee
25 GHC per hour per child
How to get to the Tagbo Falls Lodge?
The Tagbo Falls Lodge is located on the left side of the road, just before the entrance of Liati Wote village (coming from Liate Soba in the Afadjato South District of the Volta Region. See the map below, or view the location on Google maps.
Getting there by car from Accra: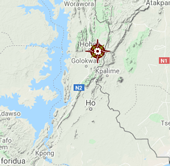 » View on large mapFrom Accra get unto the Tema motorway and drive towards Akosombo. Cross the Adomi Bridge at Atimpoku and drive on through Juapong and get to Asikuma Junction. Take the left turn at Asikuma Junction and drive on through Peki, Kpeve and Have. Continue straight without turning (a left turn takes you to Kpando) through Avatime Fume, the Logba and Tafi towns till you reach Logba Wuinta. Take the right turn and drive to Leklebi Dafor where you turn left. This turn brings you to Liati Agbonyra. From Agbonyra turn right onto the untarred (dirt) road and drive to is Liati Soba where you do the last turn on the right to reach Liati Wote.
You can also drive on straight at Asikuma Junction (without turning left to Peki) and drive through Tsito and Anyramase Junction to Ho (the capital of the Volta region). At Ho drive past the OLA Girls Secondary School up the hills to Taviefe, Dzolo towns and Avatime till you get to Avatime Fume. This road is through the mountains but the road is better than the road through Peki. From Avatime you drive through the Logba and Tafi towns till you reach Logba Wuinta. Take the right turn and drive to Leklebi Dafor where you turn left. This turn brings you to Liati Agbonyra. From Agbonyra turn right onto the untarred (dirt) road and drive to is Liati Soba where you do the last turn on the right to reach Liati Wote. The Tagbo Falls Lodge is on the left on the outskirts of Liati Wote.
Need transport?
If you need transport to or from Liati Wote, we can arrange a transfer with one of our cars and reliable drivers. Contact us for prices or if you have any questions.
Getting there by public transport from Accra
Take a Hohoe-bound bus from Tudu or Madina Station. You may decide to get off at Golokwati (short form is Kwati) at the police barrier. You can either charter a taxi (approximately 50 GHC) or take a motorbike (approximately 10-15 Ghc) from there to Liati Wote. The other option is to go to the main busstation in Hohoe and take the Wote bound taxi or mini bus from there.
Location of Liati Wote and the Tagbo Falls Lodge on Google Maps
NOTE: Liati Wote (and Mt. Afadjato and Tagbo Falls) are currently in the wrong location on Google Maps. The current location of Liati Wote on Google Maps is wrongly situated 30-45 minutes further North-West. We have notified Google about this, but it has not yet been corrected. Mount Afadjato and the Tagbo Falls are more to the East of the village than currently indicated.
The correct coordinates of the lodge are: 7°01'17.4"N 0°32'29.7"E
» View the location of Tagbo Falls Lodge on Google Maps.
COVID-19 preventive measures
COVID-19 measures in and around the Tagbo Falls Lodge.Preventive measures have been put in place to ensure that all guests and personnel are comfortable staying in the lodge during the current COVID-19 threat.
Jolinaiko's Tagbo Falls Lodge and driver team members have been properly trained and stick to preventive measures like social distancing, wearing of face masks and hand washing. Every team member is conscious of the importance of monitoring their own health. Hand washing stations and signs are installed around the lodge and at several points in the community.
We have the following specific preventive measures in place:
The lodge/staff responsibility
Preparing and Serving Food & Drinks:
Staff will wear facemasks when preparing food and fresh drinks.
Staff will wash hands thoroughly with soap before, after and during the preparation of food.
Staff will wear facemasks and washes hands thoroughly before and after serving meals and drinks.
Housekeeping
Staff will disinfect the rooms when guests leave.
Staff will wear facemasks when dressing rooms.
General
The lodge is open for lodging guests only. Maximum 6 day guests are allowed in andserved in the garden.
Staff records contact details to allow contact tracing if necessary.
The lodge operates on full capacity for closed groups only.
Staff keeps 1.5 meters social distance from guests.
The guest's responsibility
If you or someone in your group has a fever or any symptoms of the virus then please cancel your stay with us.
If you have been in close contact with someone who has been tested positive with the virus in the last two weeks, then please cancel your stay with us.
Please wash your hands with soap thoroughly upon entry.
Please allow staff to register contact details when checking in.
Please wear your facemask when you are in confined spaces - which is the living room. We recommend you instead make use our outside sitting areas.
Maintain social distancing of 1.5 meters with both our staff and other guests.
Wash your hands with soap or use hand sanitiser frequently; wash hands before and after taking meals and drinks and after leaving your room.
Guests will be asked to carry their own luggagee.
The community
The Liati Wote Community has been very dedicated to keep Covid-19 away from their community. Let's keep the community safe by sticking to the following pointers:
Wear a facemask when entering the community and observe social distancing with community members.
Observe social distancing when you go on a hike to the Falls or Mountain Afadja with a community guide.
Wash your hands thoroughly with soap or sanitize your hands before entering a shop or the tourism reception office.
Tippy-taps and Veronica Buckets have been installed at advantage points. Please make use of them.
If you have any concerns or questions about your safety while in our lodge or the measures we take, please don't hesitate to contact us.
Contact and booking
Lodge manager
Philomina (Philo), our lodge manager / caretaker, can be reached on +233 (0) 50 0149625 (also on WhatsApp).
Bookings via Jolinaiko Eco Tours:
Email: info@joli-ecotours.com
Or give us a call or Whatsapp message:
Cindy Noordermeer-Panou: +233 (0)24 7522173 (English and Dutch speaking)
Apollo Panou: +233 (0)20 8120856
Payment
We accept cash in local currency, MTN mobile money and deposits on GHC-accounts. Please be aware that there is no ATM within 45 minutes's drive.
Cancellation policy
Cancellations should be made giving at least 72 hours' notice. Anything less than this we would ask our guests to pay the full accommodation fee, so we do not make a total loss.
Last minute cancellation is accepted if caused by Covid-19 and the deposit will be refunded. However, we will be grateful if you accept a voucher and postpone your travels.
Follow the Tagbo Falls Lodge on Facebook and Instagram
Follow us on our social media accounts:
If you have had a great experience, we appreciate a review on our Facebook review page!
Arrival and departure
Check in from 14.00 PM. Check-out time: 11.00 AM at the latest.
Our kitchen takes last orders at 8.00 PM. So if you will be arriving late, please call ahead to our lodge manager to order! (See the menu above.)