Our destinations in West Africa
Our specialty: Ghana, Togo, Benin and Burkina Faso
We specialise in organising single country and combination tours to Ghana, Togo, Benin and Burkina Faso. When desired, we can include Mali within our combination tours.
We invite you to read about the highlights of these countries and the examples of possible tours and itineraries (coming soon) you could undertake.
Get inspired
Get inspired by our interactive map of interesting locations. Read about the many interesting community-based eco-tourism projects Ghana has to offer, or browse through our photo albums of the various regions and destinations..
The West African region in general
» View the full-screen version of this Google map of Ghana, Togo, Benin and Burkina Faso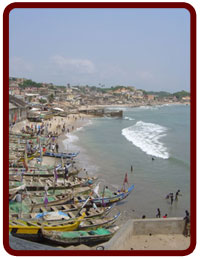 The West-African country tours we offer bundle a rich variety of activities and sights. Worthwhile to visit are the historical castles and forts from colonial times along the coast. Experience the richness of the various ethnic cultures throughout the region, including the Voodoo culture in Benin. The Sahelian style mud-and-pole architecture in the sub-Saharan and semi-desert and the humble thatched huts located in villages throughout the region are also a 'must see'.
Combine the busy nightlife in the capitals with the idyllic palm lined beaches, or adventurous biking or hiking through the thick tropical forest with waterfalls for refreshing showers. Watch elephants gather around waterholes in the National Nature Reserves. Witness the hippos and many species of birds during a canoe trip through the well preserved habitat along the banks of the rivers and mangrove forests.
Get under the surface with Jolinaiko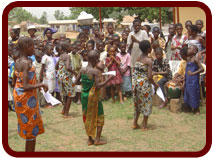 The main interest of West Africa is its variety of people and culture. Travelling with Jolinaiko means meeting West Africa. Meet the people at the crowded, colourful markets and on the vibrant streets. Observe the wisdom of the villagers in remote areas where life goes on as it has for centuries. Feel your muscles after dancing or drumming with ethnic groups, elegantly dressed in their traditional embroidered grand boubou. Help a local lady pounding fufu for a delicious supper.
Jolinaiko Eco Tours can be your key to getting under the surface of West Africa – to understand what this region is really about and start seeing it through West African eyes.