Travelling the Jolinaiko way
The most memorable travel experiences happen unexpectedly, and putting those experiences into words can be a difficult task.
When you travel with Jolinaiko Eco Tours, these unexpected events and spontaneous meetings with local people will stay in your memory long after your journey: the extraordinary hospitality you received in a little village; the entertaining humour of the market women; or the fabulous skills of local craftsmen.
It's difficult to describe the fresh taste of palm wine or 'just picked' coconut juice. You can almost hear the laughter of a group of school children you came across on your second day or the whirling dust rising from the dozens of dancing bare feet at dusk on your fourth night.
These are the ingredients that will make your trip with Jolinaiko Eco Tours a memorable experience.
The Jolinaiko way
Our mission is to let our visitors experience the real Africa. We encourage you to meet the people of West Africa, experience their culture and come to understand what this unique region is all about.
Jolinaiko Eco Tours focuses on bringing you into personal contact with the people; get close to their local life style in a way that is in balance for both of you. Additionally, Jolinaiko Eco Tours uses local services as much as possible in order to contribute to the development of the local people.
Flexibility in transport and accommodation
Jolinaiko Eco Tours is highly flexible. You build your own trip in regards to the way you want to travel and what you want to experience whether it be cultural heritage, nature and wild life, music and dancing, etc.
It is our job and our pleasure to turn your travel wishes into reality. With each tour we adapt our means of transportation, accommodation and food to suit your own interests, background and budget.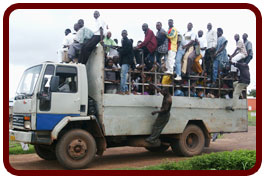 Jolinaiko is experienced in fully organising a variety of trips. Are you interested in a day-trip or a four-week tour through Ghana, Togo and Benin? Or, how about going on a specially organised biking, bird-watching or camping tour? It is all possible with Jolinaiko!
Next to that, for people coming to work for an extended period of time in Ghana (both volunteers and professionals), we organise introductory tours for them and, when requested, for their guests.
Flexibility in budget and reasonable prices
Jolinaiko Eco Tours has reasonable prices. We offer tours to suit any budget, but our specialty lies in arranging low- and moderate-budget travel.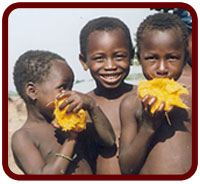 We can organise low budget tours with public transport – using "trotro" (local buses), comfortable public bus companies and/or one of the periodic ferries across the vast Volta lake – all combined with simple yet adequate accommodation.
For those of you looking for more comfortable means of travel, we can arrange tours with our own Landrover Defenders / Toyota Landcruiser or other (air-conditioned) saloon cars, four-wheel drive vehicles or vans. And, to suit a more discerning traveller, we can book your stay in more comfortable hotels.
The choice is completely up to you. Best of all, we make it possible for you to adjust the travel standards at anytime during your trip.