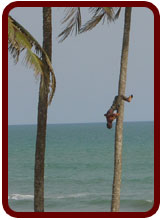 Who are we?
Jolinaiko Eco Tours is a Ghana-based travel company offering personally tailored guided tours and other travel experiences to Ghana, Togo, Benin and Burkina Faso.
We are the preferred local tour operator for many specialised travel agencies in Europe, North America and the Middle East.
Jolinaiko Eco Tours is run by the Ghanaian-Dutch couple Apollo and Cindy Noordermeer-Panou and their dedicated team. Jolinaiko Eco Tours was founded in 2001 by Apollo.
Our mission: to let visitors experience the real Africa
We encourage our visitors to fully experience West Africa and understand what it is really about.
Our mission is to bring our visitors into close contact with the local people and their lifestyle in order to give them both the opportunity to learn from each other in a friendly, respectful way. Our tourism activities are therefore small scale and personal, with respect for local lifestyle and traditions.
We are proud of our country, culture and people. We feel responsible to contribute to local communities with our tourism activities, for example in the villages Atsiekpoe in Ghana's Volta Region and Davedi in Togo. We are happy to expand this contribution even further with the realisation of the Jolinaiko Village Lodges and our collaboration with the Stepping Stones for Africa Foundation.
Flexibility and reasonable prices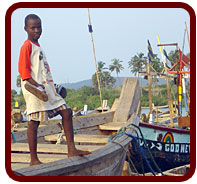 Jolinaiko Eco Tours is an extremely flexible travel company. Our travellers have their own say in the way they want to travel, which countries they want to visit and what they want to experience in the way of cultural heritage, nature and wild life, music and dancing etc. Each tour is based on the visitor's personal interests, background and budget.
Jolinaiko Eco Tours has reasonable prices. We offer tours to suit any budget. We can organise low budget tours with public transport – using "trotro" (local buses), comfortable public bus companies or one of the periodic ferries across the vast Volta lake – all combined with simple yet adequate accommodation.
For those of you looking for more comfortable travel means, we can arrange tours with our own Nissan Patrols or other (air-conditioned) saloon cars, four-wheel drive vehicles or vans. And, to suit a more discerning traveller, we can book your stay in more comfortable hotels. The choice is completely up to you. Best of all, we make it possible for you to adjust the travel standards at any time during your trip.
Accreditation
Jolinaiko Eco Tours is a Licensed Tour Operator with the Ghana Tourism Authority (GTA)
We are also registered with the Tour Operator Union of Ghana (TOUGHA).