The people behind Jolinaiko
Apollo Panou and Cindy Noordermeer-Panou
The main people behind Jolinaiko Eco Tours are the Ghanaian-Dutch couple Apollo and Cindy Noordermeer-Panou.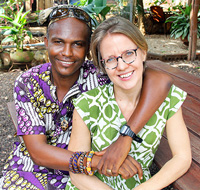 Apollo and Cindy PanouApollo (Eddo-Sodo Appolinaire) founded the company in 2001 based on his interest and pride to share the West-African culture with others. Initially, the company was a one-man business offering professional tour guide services. Today, Jolinaiko Eco Tours has become a medium sized enterprise serving over a hundred tour groups a year and creating job opportunities for a diverse team of drivers, guides and office personnel.
The success of the company is mainly based on Apollo and Cindy's shared personal characteristics which are dedication, enthusiasm, idealism, pragmatism and loyalty. They have a passion for the African continent and like to share this with others. Their mixed African and European background is a great asset. They understand traveler's expectations and can translate travel wishes to the West African context and this has resulted in countless memorable travel experiences for their clients. They know where the Western tourist is looking for and based on this, they always see opportunities for new product development.
Apollo and Cindy get their motivation and satisfaction from the people they work with. They are proud of their loyal and committed team. They love to work with talented people, empower them and enable them to grow in their own personal way, and to become responsible leaders within their family and community. Especially in a developing country like Ghana where having a job is not obvious.
Another driving force is their belief that tourism could play a role in bringing sustainable development to the hinterlands and this has fuelled the private-public partnership that Jolinaiko Eco Tours has with the Stepping Stones for Africa Foundation. Together, their mission is to make a bigger impact on the development of responsible/eco-tourism destinations in West-Africa, and thereby significantly improve the quality of life of the inhabitants of the communities involved.
Personal info about Apollo
Apollo was born in 1973 in a small town in the Eastern Region of Ghana. Due to his father's profession as a French teacher, Apollo lived in countries throughout West Africa and had the opportunity to experience many cultures and learn many languages. This triggered his interested and ambition in tourism. "One of the biggest advantages is that I learnt English, French, Ewe, Twi, Ga (Ghana), Fon (Benin) and Yuruba (Nigeria), for which I am very grateful. This gave me the opportunity to share my country with everybody who wants to learn about this region."
Personal info about Cindy
Cindy was born in 1977, has a Dutch nationality and has been living in Ghana since 2003. She earned her professional degrees in Nutrition (BSc) and International Public Health (MSc) at VU University in Amsterdam, and further gained her working experience in the health and development sector in urban and rural Ghana. Cindy became more involved in the company as an administrator in 2006 after Jolinaiko's first website was launched which resulted in a significant increase in travel requests. Cindy is also the co-founder of the Stepping Stones for Africa Foundation, a Dutch registered charity.
Apollo and Cindy met and started a relationship in 2003, married in 2008, and have two children, a son called Senam Dico Panou (2009) and a daughter called Dzifa Annabel Panou (2011).
Remco Kalf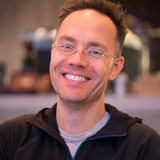 Remco KalfRemco has been assisting Apollo and Cindy as consultant, problem-solver and marketeer in the Netherlands since 2004. Remco designed the Jolinaiko logo, and he designed, built and maintains this website. Additionally, he is responsible for the (internet) advertising.
Born in 1971, Remco is Cindy's first cousin. Since 2004 he has his own (web)design and development agency. He designs and builds websites for companies and government bodies in the Netherlands and works as a freelance consultant, designer and front-end developer.
Together with Cindy, in 2006 Remco founded the Stepping Stones for Africa Foundation, a Dutch registered charity. This foundation was the logical next step from the successful 'Aandacht voor Aids' ('Focus on AIDS') initiative, started by Cindy and Remco in 2003, while Cindy was working in an AIDS/HIV clinic in Accra.
Remco's motivation for founding Stepping Stones for Africa, for helping grow Jolinaiko over the years, and for facilitating the partnership between both, is that he has seen over the last 14 years that real, meaningful impact on poor peoples's living conditions and motivation can be made. People living in poor rural villages can be inspired to take their own responsibility and focus on their entrepreneurship. They mostly need some guidance or practical help, and people that believe in them.
The partnership between the villages and their communities, the charitable organisation Stepping Stones for Africa, and the dedicated and responsible tourism company Jolinaiko Eco Tours is a powerful one, to which he loves to dedicate part of his spare time.