The Sunbird Lodge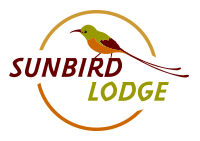 Welcome to the Sunbird Lodge, our family Bed and Breakfast in Amrahia/Lambfarms, a quiet suburb of Accra (Ghana), at the foothills of the Akuapem Mountain Range and only about 25 kilometers from Accra airport.
Quiet and relaxed atmosphere, close to Accra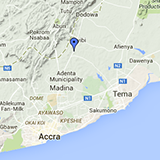 » View on large map
The Sunbird Lodge is the perfect place to acclimatise after arriving in Ghana, or to relax the last few days of your tour before flying home. It is great as your base for sightseeing or doing business in Accra, Tema or the Volta Region.
The guesthouse is located in our blooming, private and walled garden above the offices of Jolinaiko Eco Tours. What makes our lodge special is the quiet, pleasant surroundings and the welcoming family atmosphere.
We invite you to relax and be yourself, on your own or taking part in our daily African-European family life.
Comfortable rooms
We offer two cozy, comfortable rooms, decorated with care. The use of authentic brick and enough windows ensures cool temperatures, aided by fans for the warmer times of the year. Both rooms have a bathroom with shower, and a shared balcony with a view on the mountains, our garden with fruit trees below, and our house.
Our family and staff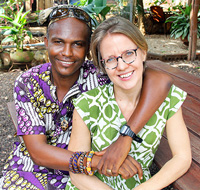 Apollo and Cindy PanouThe Sunbird Lodge is run by Apollo and Cindy Panou, the founders of Jolinaiko Eco Tours. Philomina assists us in taking care of our children: Senam and Dzifa, keeping the lodge clean and making sure our guests are satisfied.
Trips, tours and car rental
As the Sunbird Lodge is part of Jolinaiko Eco Tours, we can offer you our expertise to combine your stay with trips to the surrounding area, daytrips or longer tours in Ghana, Togo, Benin and Burkina Faso, and car rental with one of our drivers and/or guides.
We hope you will enjoy your stay!
Please contact us if you have any questions or want to make a booking.
Our rooms and prices
The Sunbird Lodge has two rooms: the Savannah Room and the Volta Room. Both have double beds, a bathroom with shower, and a shared balcony. The rooms are equipped with fans and mosquito nets.
Savannah Room
Volta Room
Prices per room, per night:
Single occupancy: € 30,- including breakfast.
Double occupancy: € 37,50 including breakfast.
Check out time is before 12 p.m. We offer a discount for volunteers and students.
Breakfast (included)
In the morning, a delicious breakfast is served in the garden or on your balcony, with:
Bread or toast
Fresh eggs (boiled or omelet) and vegetables
Chocolate paste, honey or jam
Fresh fruits
Black tea or rooibos and filter coffee (organic fair trade certified coffee from Togo)
Let us know if you have any special breakfast wishes.
Lunch, dinner, drinks and snacks
We offer several options for lunch and dinner:
Pot luck (between Ghc 15,- and Ghc 25,-)
Choose between a typical West African meal or a continental meal. The menu and prices will be written on our black board. Meals are served in the garden or on the balcony.
Order from Vallez restaurant (between Ghc 15,- and Ghc 35,-)
We can also offer the menu of Vallez restaurant in Oyibi, a 5 minute drive from here. They offer a variety of local and continental dishes including the popular grilled Tilapia and grilled chicken. If you prefer their menus above the pot luck, let us know. We will order and deliver it for you (charges: Ghc 8,-). Ask for the direction if you'd like to enjoy your meal at their restaurant.
Drinks and snacks
We offer refreshing drinks, fresh juices and smoothies. Snacks are available at neighboring shops (biscuits, chips etc). Occasionally you'll find some delightful pies and salads written on the black board.
Services
Airport service
If you are staying at the Sunbird Lodge, we offer airport transfers for discounted rates. We can pick you up for € 25,- and drop you off for € 20,-.
Internet and library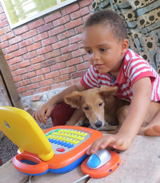 Wifi available
We have free wifi available.
We have a nice selection of novels, guide books and magazines. We also have a swap selection of books; take a book you like and leave one of your own books behind.
Washing service
We offer a clothes washing service for Ghc 1.00 per item.
Car rental
We provide car rental services. Feel free to ask our staff about the options of booking a car or tour for a day or longer with one of our drivers and/or guides. See the Jolinaiko car rental section for more info.
Mountain bike rental
If you prefer to explore the surrounding area by bike, we have mountain bikes for rent.
Solar lights
In case of power failures during your stay you will find a solar light in your room.
Things to do in the area
There are various places of interest and things to do in our neighborhood:
Dodowa market
This is a local market taking place on Mondays and Thursdays. You can accompany Philomina if she is going or go by yourself by public transport or taxi.
Dodowa waterfall
Enjoy a 20 minute hike through the forest to the Dodowa waterfall. One of our guides can accompany you.
Rufus Green Park
This is a garden with a cozy bar and restaurant. It is a nice place to relax. Rufus Green Park is only 15 minutes by taxi from the lodge.
Aburi Botanical Garden and Woodcarvers Gallery
Founded by the British, the garden served as a sanatorium for colonial officials in Accra since 1875. Nowadays it is a serene place where you'll find an impressive variety of tropical trees. Stroll around or go for souvenir shopping at the Wood Carvers Gallery.
Hillbury swimming pool
Up in the mountains nearby Aburi, a 20 minute drive away, you will find an exclusive and quiet resort with a good restaurant and a pleasant swimming pool.
Beads factory and workshop
The century old process of traditional glass beads making by the Krobo people can be observed at TK Bead factory. Only 10 minutes walking distance from our lodge, you can visit the glass beads factory or take a workshop (3-4h) on Tuesdays or Fridays and create your own glass beads.