COVID-19 travel info and updates
On this page, we will post COVID-19 information and regular updates concerning the situation in Ghana, travelling to and in our region, and our company.
We will update this page regularly to ensure you can stay on top of the developments. Don't hesitate to contact us for any questions.
Last updated: 4 April 2021
COVID-19 in West Africa
As everywhere in the world, West Africa is also coping with the ongoing COVID-19 pandemic. Since we are based in Ghana, and our operations take place from here, Jolinaiko takes its decisions based on the situation here.
The first known corona cases hit Ghana mid-March. The government of Ghana immediately imposed a lock-down and a closure of borders. The lock-down was lifted in May and replaced by strict precautionary measures such as compulsory wearing of face masks, restrictions on gatherings etc.
Commercial flights (with mandatory testing) commenced in September 2020, but land borders remain closed.
On 18 October 2020, Ghana announced zero active cases which indicates that the situation is very much under control. However, the numbers of positive cased increased sharply early 2021, which means that Ghana is also experiencing a second wave more severely including the British and South African variations of the virus.
The total positive cases from March 2020 till February 2021 passed 70k. Fortunately, the mortality rate in West Africa has been minimal: less than 1%. For a daily insight: https://ghanahealthservice.org/covid19/. Not as many cases have been detected in Togo and Benin but this might be due to the lack of testing on a large scale.
The situation for travellers in general
The international air borders of Ghana, Togo and Benin are open for international travelers. The Kotoka International Airport in Accra opened on the 1st of September 2020 with mandatory testing 72 hours before travelling in the country of departure and a quick PCR test (150 USD) upon arrival at the airport in Accra. The test upon arrival needs to be paid for online before boarding the plane. No test is requirement by the government of Ghana for departing travellers.
Similar requirements have been implemented by the governments in Togo and Benin. In Benin, two COVID-19 tests, a TDR rapid test and a PCR test are required upon arrival at the Cotonou Cadjehoun Airport. A third test is required for travellers who stay longer than 15-days in the country. All three tests cost CFA 50.000/90 USD in total. Departing travellers who stay in the country for more than three days must also present a proof of a negative COVID-19 test at the airport. Togo also requires a mandatory test (PCR/serology) taken within 7 days before travelling and a mandatory test upon arrival. Depending on the country of departure, a 1-2 days quarantine is required. Obviously, a mandatory- or self-quarantine is required if tests results are positive. A negative test is also required to for departing travellers 7 days before departure date.
The situation remains fluid, and special requirements of the airlines also need to be considered. Please contact us for information and advise based on your individual travel plans.
Unfortunately, the land borders between Ghana, Togo, Benin, Ivory Coast and Burkina Faso still remain closed.
Jolinaiko and COVID-19
Covid19 created challenging times for Jolinaiko and the team. Nevertheless, it seems we never get tired of developing new ideas to get us through these times. We try to add value where possible.
Fresh from the field
We recently launched Fresh from the Field, a new brand of honest local products, proudly produced by people in our rural travel destination communities, and sold locally. For example we support a beekeeper by selling his quality honey, and we sell coconut oil, palm oil and Philo's jams from Liati Wote village.
With Fresh from the Field we want to support and create opportunities for our partner communities, where people also are experiencing difficult times with no tourists visiting. At the same time Fresh from the Field is a perfect opportunity for our wonderful staff that we try to keep onboard, to strengthen their entrepreneurial skills and keep them busy taking, processing and delivering orders in the Accra region.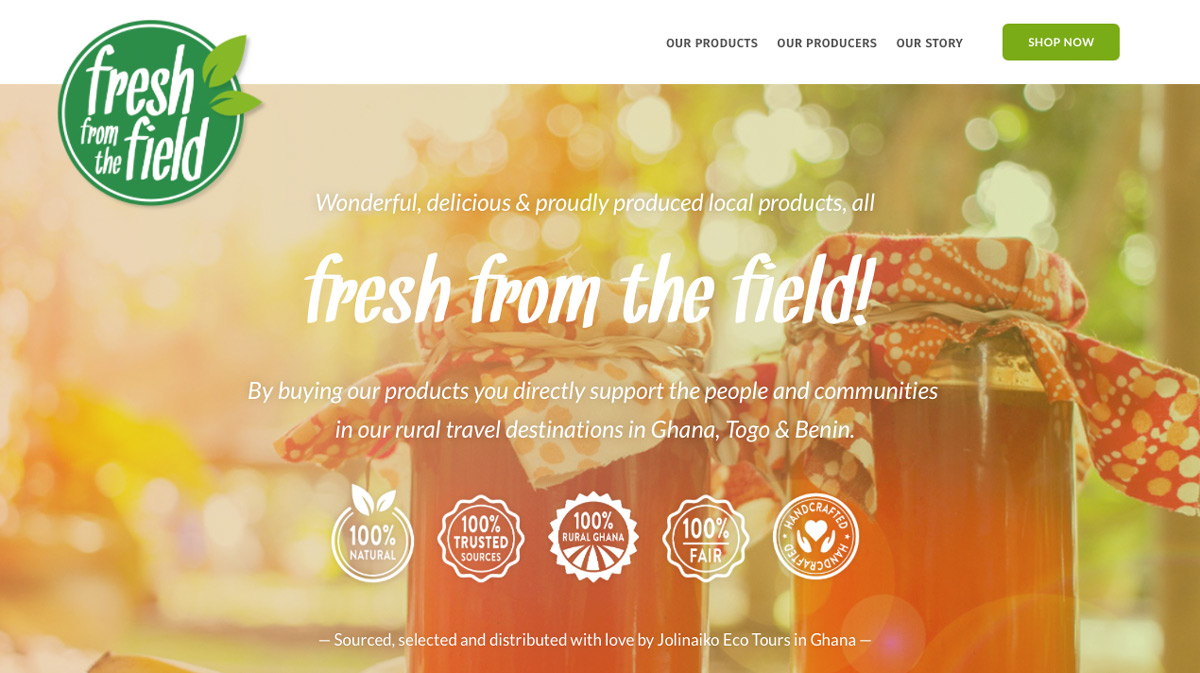 Tagbo Falls Lodge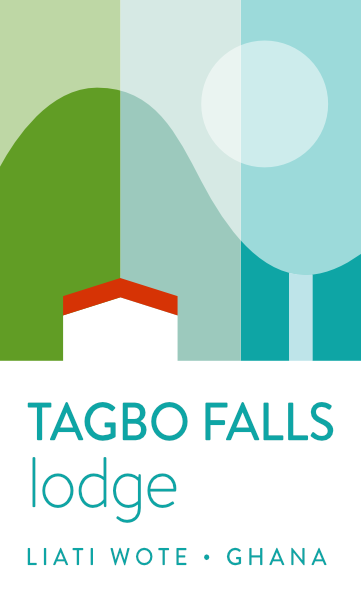 We also are focussing on developing and marketing our own Tagbo Falls Lodge locally.
We organise COVID-safe and pleasant private and group stays in our Tagbo Falls Lodge in Liati Wote, in the Volta Region. Especially now that travelling around the country is not possible, the natural environment of Liati Wote is a great place for families and friends to relax, revitalize and reconnect. Now with great organised activities for kids and a nanny service, so you can have some time off to relax, or work in quiet.
If you would like to organize a stay at the lodge with your family or friends, please contact us. Safe transport can be arranged and we will make sure your stay is as safe as possible. We have put in place a range of preventive measure to ensure that all guests and personnel are comfortable staying in the lodge.
Car rentals and transport on demand
Furthermore we offer vehicle rentals locally, also for companies in Ghana to safely transport personnel with all COVID measures in place.
View/download our pdf leaflet if you are interested in transportation for your business in Ghana. Contact us to discuss the possibilities.
Local tailor-made tours
We continue to offer safe tailor-made local tours as travelling close to home has also become the reality here!
Our message for our international travellers is: Dream Now and Travel later! We like to work with you on a tour for the future, and it's never too early to start planning.
In the meantime, Jolinaiko will make sure that we remain the travel operator of choice for West Africa in the future. We are working on exciting new travel experiences and enhancing our sustainability efforts. Follow us on Facebook and Instagram for the latest news.
Flexible travel and booking conditions
Making travel plans in these uncertain times may feel daunting. But we still encourage you to plan your travels to West Africa. Apart from the wonderful experiences that await you, your travels to countries like Ghana, Togo and Benin directly benefit local families and communities.
We invite you to contact us to discuss your travel wishes and request a travel proposal.
We have made our travel and booking conditions for our international travellers flexible to make you feel comfortable to book a trip:
Book with 10% deposit + balance due 31 days before departure.
There are some exceptions, for example some domestic flight bookings or specific lodges might need to be paid in a non refundable way at deposit time. This would be on top of the 10%.
Your deposit is fully refundable up until 31 days prior to departure.
Our standard cancellation fee is charged within 30 days of the departure date. (Except where travel advisories require the trip to be cancelled and therefore fully refunded).
The option to postpone is always there, and we will do our utmost to offset any costs of doing so.
If there are any exceptions to the above, for example non-refundable deposits that need to made for hotels or domestic flights, you will be made aware.
For details, please see our Terms and Conditions.
General precautions
We have a set of precautionary measures in place for both Jolinaiko staff and travellers. The exact precautions depend on the services you book with us and will be shared with in the booking process. In general these precautions are:
Cancel or postpone your trip if you have been exposed to COVID-19 in the past two weeks, have tested positive recently and you have not yet fully recovered, or when you show any of the symptoms.
Wash your hands thoroughly and often.
Avoid greeting with a handshake or hug.
Always have a face mask to put on when it's required; in confined and crowded places, when travelling with a group in a bus, and when entering a local community.
Always ensure that there is sufficient disinfectant in your daypack and the vehicle.
Make sure that the recommended distance of 1.50 meters is observed.
Try to avoid crowds and wear a mask if you are close to people outside your group.
If possible, try to move seats outside when visiting restaurants or to keep enough distance from people outside your group.
If necessary, kindly remind the group to consider the hygiene and clearance regulations.
We follow the local developments and regulation in the different destinations and might decide to change a program accordingly.
Compulsory testing of travellers could become a requirement in the future.
Specific precautionary measures for stays in our Tagbo Falls Lodge can be found here.
Reaching out to our team
For West Africa, the peak of the pandemic is yet to come and livelihoods will be even more affected in the future.
In the past month, former Jolinaiko travellers have reached out, specifically to their befriended drivers and guides. We are grateful for that. Despite our positive attitude towards this crisis, we can't deny that this situation is worrisome, especially for our large team (and their families) and for the communities we visit.
Some former travellers felt the desire to support the people who made their trip in West Africa unforgettable. Their support has been hugely appreciated.
If you have travelled with us and would like to know how the people you travelled with are coping, or if you would like to contribute to those in need or our recovery projects, please reach out.
For now: stay safe, stay healthy, dream now and travel later!
Apollo Panou & Cindy Noordermeer-Panou, and the Jolinaiko Team
Jolinaiko Eco Tours.